Centropa's Guide to Berlin
In this section we are collecting a lot of interesting information for you to explore Berlin.
Use these buttons to jump directly to the respective section on this page.
Berlin Suggested Activities
Memorial to the Murdered Jews of Europe
Installed in 2004, this monument is located on the former 'death strip' by the Berlin Wall that divided the city. It was designed by architect Peter Eisenman and engineer Buro Happold. There is an information centre at the site's eastern edge and there are a total of 2711 concrete "stelae". Eisenman wanted to create an illusion of instability in an apparent system of order.
Centrum Judaicum (Jewish Museum)
Housed within the New Synagogue, the permanent exhibition of the Jewish Museum is under construction and has closed the entire museum.
New Synagogue
The synagogue was completed in 1866 as the main synagogue of Berlin's Jewish community. Much of it was demolished prior to and during World War II, therefore much of the present structure is a reconstruction, however the dome and towers are from the original building. Jewish services are still held in the New Synagogue and also houses offices and the Jewish Museum.
Platform 17 Memorial
Between autumn 1941 and spring 1942, the Grunewald S-Bahn station was used to deport Berlin Jews to ghettos and extermination camps in the east by train. The memorial was initiated by the Deutsche Bahn to commemorate the deportations.
Weißensee Cemetery
Established in 1880, this is second largest Jewish cemetery in Europe with nearly 115 000 graves. Despite the destruction of Jewish life during the Nazi rule, this cemetery escaped relatively unscathed. In front of the entrance you will notice a Holocaust memorial where stones with the names of concentration camps written on them encircle a commemorative stone. There is also a memorial to Jews who perished during the First World War and a commemorative plaque to those who fought Nazism.
Block of Women ( Rosenstraße Memorial)
This memorial stands on the former site of the Old Synagogue that was destroyed in World War II. It is a memorial to the women's uprising of 1943. The uprising was the result of the February 1943 detainment of nearly 2000 men, mainly Jewish, who were in mixed faith marriages. Today, the statue memorializes the courage of the women who put their lives at risk to secure the freedom of their husbands. It also reminds the audience of day-to-day discrimination, ethnic persecution, and their impacts on Jewish culture.
Anne Frank Centre
The permanent exhibition "Anne Frank. Here & Now" can be seen here. It is an exhibition about history and the present and tells the personal story of Anne Frank. The exhibit itself is housed in the Schwarzenberg House that houses Otto Weidt's Workshop for the Blind among other cultural centres. Admission: 5€
Jewish Cemetery on Schoenhauser Allee
This five-acre Jewish cemetery Schönhauser Allee was established in 1827 as a replacement for the Jewish cemetery in the Große Hamburger Straße. In 1961, a memorial to victims of Nazi violence was established. Similar to the famous Jewish cemetery in Prague, the deceased are partly buried here on top of each other. In the other sections of the cemetery mostly plain graves are created, many are characterized by number stones.
Former Jewish Girls' School
The construction of the school was completed by 1928. The Girls' School was occupied by Nazis as early as 1930 and the courtyard was even used to organize and carry out deportations in 1941. In 1942, the school was closed and taken over by a hospital until the end of the war. In 2006, it came to life again with the 4th Berlin Biennale held there. In 2011, gallery owner Michael Fuchs rented the school on a 30 year lease and has since established the 'House of Art and Dining Culture'.
Jewish Orphanage Pankow-Berlin
The orphanage was built in 1882 to house refugee children of the Russian pogroms of 1881. The initial structure was destroyed by a fire and a new building was rebuilt on the same site in 1913. The orphanage was forced to close down in 1940 and fell into disrepair after Germany's 1990 reunification. Since 2001, it has housed the district library and since 2007, a comprehensive school.
Otto Weidt's Workshop for the Blind
Weidt established his workshop in the Mitte district in 1940. Here, blind and deaf Jews produced brooms and brushes. The factory was considered to be important for the war effort and Weidt bribed the Gestapo to protect his workers from deportation for some time. His workforce was severely depleted after the 1943 deportations but continued production until shortly before the end of the war. In 1952, the East Berlin City Council shut down the workshop. Today, it is a functioning museum with a permanent exhibit that tells the story of Otto Weidt and his workers using personal documents and tours around the site.
House of the Wannsee Conference
In 1942, leading figures of the Nazi government and SS met at this luxury villa to discuss the 'Final Solution' to the Jewish question. Today, the exhibition houses original documents, audiovisual presentations, photos and books about the Jewish ghettos, and detailed information about the deportations and subsequent extermination of Jews.
The memorial site is free, guided tour 3€, extra admission charge for special exhibitions.
General Historical and Cultural Sites
Reichstag Building
It was opened in 1894 to house the Imperial Diet. It did so until 1933 when it was severely damaged after being set on fire. The building fell into disuse after the Second World War as East and West met separately in East Berlin and in Bonn, respectively. After German reunification, restorative efforts began. By 1999, it became the modern meeting place of the parliament — the Bundestag.
Berlin Wall Memorial
The Berlin Wall Memorial is the central memorial site of German division, located in the middle of the capital. The memorial contains the last piece of Berlin Wall with the preserved grounds behind it.
East Side Gallery
Formed part of the border between East and West Berlin, the East Side Gallery is understood as a monument to the fall of the Berlin Wall and the peaceful resolution of boundaries and conventions between companies and people.
Topography of Terror
The current museum is housed on the sites of some central institutions of Nazi persecution and terror, namely the headquarters of the Gestapo, the high command and security service of the SS, and from 1939, the Reich Security main office. This documentation centre tells the audience about the institutions and crimes that were organized there. This site also contains the longest surviving section of the Berlin Wall.
Free admission.
Everyday life in the GDR (at the Kulturbrauerei)
The permanent exhibition on "Everyday Life in the GDR" shows what East Germans' lives were like in the 1970s and 1980s – at work, in public and in private.
Free admission.
Plötzensee Memorial
Between 1933 and 1945, political opponents of the National Socialist regime were executed in the Berlin Plötzensee prison. The German Resistance Memorial Center commemorates victims of National Socialist judiciary with an exhibition at the historic site.
Stasi Museum
The Stasi Museum is a research and memorial centre concerning the political system of the former East Germany. Exhibitions provided by the Federal Commissioner for Stasi Records.
Entrance fee: 6/4,5€
Alte Nationalgalerie
19th century paintings and sculptures.
Entrance fee: 4/8€
Erholungspark Marzahn (theme gardens in the middle of socialist skyscrapers)
Park at Gleisdreieck
Gardens of the World offers the visitor a unique opportunity to experience a range of garden styles from different eras and different parts of the world, as thousand-year-old traditions mix with contemporary garden design from five continents.
Entrance fee: 7€
Brandenburg Gate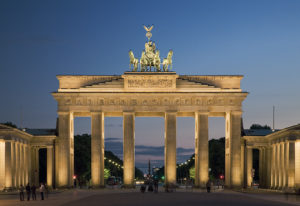 This 18th century neoclassical monument was built on the orders of Prussian king Frederick William II. It was built on the site of a former city gate that marked the start of the road from Berlin to the town of Brandenburg an der Havel. Napoleon was the first to use the gate for a triumphant procession and later would be used as a symbol by the Nazi party. The gate would be closed during the Berlin Wall period and would later symbolize freedom and unity after the Revolutions of 1989.
Checkpoint Charlie
History of the Berlin Wall and those affected by it. Entrance fee: 14.5€
DDR Museum
Houses a collection of cultural artifacts from the former DDR. Entrance fee 9.8€, online tickets 5.5€
Tränenpalast (Palace of Tears)
The checkpoint at Friedrichstrasse station was where travellers crossed the border each day by train or city rapid railway (S-Bahn). It was also here that East Germans said goodbye to their relatives from the West. The museum houses exhibits that detail the construction of the Berlin Wall and the checkpoint procedures of the border.
Free admission.
Gemäldegalerie
Old master paintings from Botticelli to Rembrandt.
Entrance fee: 10/12€
Pergamon Museum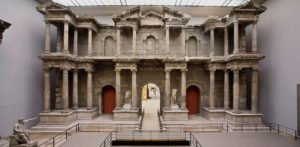 Monumental Greek architecture and more. Located on the Museum Island.
Entrance fee: 6/12€
Hamburger Bahnhof
Museum for contemporary art; we strongly recommend the Black Years temporary exhibit which features works created from 1933‐1945 including both those that enjoyed the regime's approval and others that met with derision and were considered 'degenerate'.
Entrance fee: 5/10€
Markthalle 9 in Kreuzberg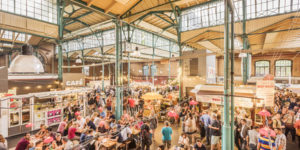 In October 2011 a historic market opened its gates again in Kreuzberg's Eisenbahnstraße – precisely 120 years after its original opening: on Tuesdays, Fridays and Saturdays there'll be a traditional weekly market, while every day except Sunday all the kinds of food you can imagine will be on sale! Every Thursday, a from 5-10pm is a street food specific market!
Dishes to try
Currywurst

On every street, you can be sure to find a place where this cheap, humble grilled sausage is served. The secret is in the sauce; a combination of the three key ingredients ketchup, Worcestershire sauce and curry powder.
Berliner

The Berlin jelly donut many think JFK claimed to be – you can't leave Berlin without trying this fried sweet yeast dough filled with jelly and topped with icing or powdered sugar.
Spätzle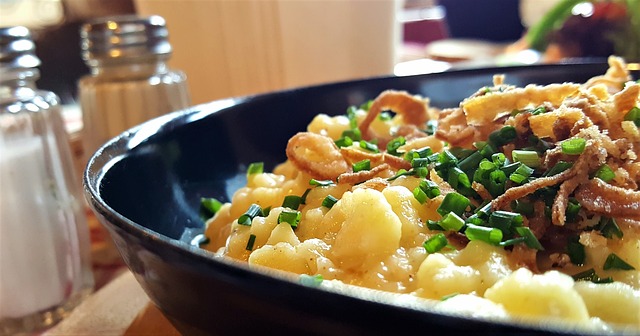 This Swabian speciality originally from the area around Stuttgart is Germany's take on pasta, and usually served topped with mountains of quality cheese.
Königsberger Klopse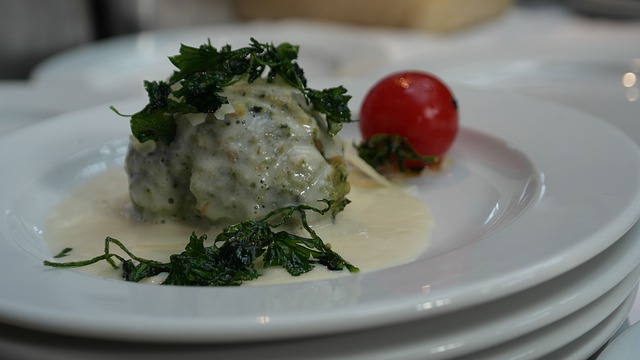 These meatballs take their name from the Prussian city of their origin, and are a hearty and tender favourite for Berliners.
Berliner Schnitzel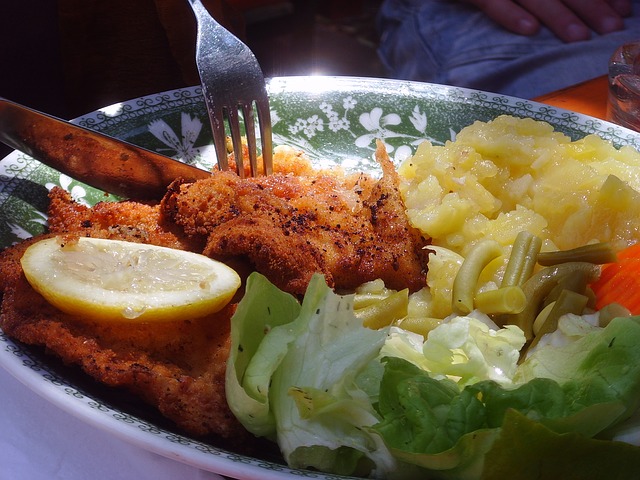 Made with cow's udders rather than veal this once-popular local dish is now served in just one place. If you are daring enough to try this traditional dish, head to Prenzlauer Berg's RESTAURATION 1900 restaurant, where the 'Granny's kitchen' set menu features a generous portion of fried udder.
Döner Kebab

A dish of Turkish origin, it consists of sliced rotisserie meat (a vegetarian option is usually available!) with salad and different sauces stuffed into pita or döner bread.
Suggested restaurants
Cordobar
What started out as a lame joke about German-Austrian football relations is now an award winning wine bar in the heart of Berlin Mitte.
cordobar.net
Große Hamburger Str. 32, 10115 Berlin
BBI – Berlin Burger International
Tiny location for a grand burger! Recommended by locals, BBI hosts an array of homemade burgers and sides, including a vegetarian option!
berlinburgerinternational.de
Pannierstraße 5/12047 Berlin-Neukölln
Prater Biergarten
This biergarten has been evolving since 1852 as a theatre, dance and concert hall, to shutting down during World War II, and then reopening, and remaining privately owned, in the GDR. Berlin's oldest biergarten was officially recognized as a government-protected historical building in 1996 and began serving food all year long. Come enjoy a traditional German cuisine and beers!
prater-biergarten.de
Prenzlauer Berg, Kastanienallee 7-9, 10435 Berlin
Suggestions for vegetarians and vegans
Cookies Cream
This restaurant serves simple but delicious vegetarian and vegan food.
cookiescream.com
Behrenstr. 55, 10117 Berlin
Kopps
One of Berlin's classic vegetarian spots since 2011, Kopps is known for using local ingredients to make healthy food.
kopps-berlin.de
Linienstraße 94, 10115 Berlin-Mitte
Vöner
This vegetarian spot has best faux-meat kebab you'll ever try. Vöner makes their 'kebab' with a mixture of seitan, vegetables, and plenty of spices and comes stuffed inside a either a wrap or large fluffy pita bread topped heavily with plenty of sauce.
voener.de
Holger Frerichs, Boxhagenerstraße 56, 10245 Berlin
If you need kosher meals
Shiloh
Kosher and vegetarian, Shiloh offers Israeli cuisine just behind the Jewish quarter.
shilohcafebistro.com
Torstraße 159, 10115 Berlin
Eivgi's
Try some authentic Sephardic cuisine near Schöneberg's city hall where Kennedy gave his speech in 1963.
eivgis.com
Belziger Straße 75, 10827 Berlin-Schöneberg
Milo
Offers good portions of delicious kosher meals, including Shabbat specials!
miloinberlin.de
Münstersche Straße 6, 10709 Berlin
More kosher restaurants and stores in Berlin
Blogs & websites on Berlin
A blog that offers insight into Berlin's architecture, street life, food, and community, Finding Berlin is also dedicated to traveling in and out of Berlin. Check out their list of the Top 5 Wine Bars in Berlin!
Awesome Berlin shares with you some of the best foods to eat, coolest bars, places to visit and fantastic parties, events and festivals in Berlin. Here is a handy guide they made on how to use Berlin's extensive public transit system!
Love From Berlin is run by two expats who are content creators based in Berlin. Check out their blog for events, arts and culture, and new restaurant tips! For any street art lovers, check out their new series on artists that have contributed to the decoration of the city!
Phrases to Know for Berlin
Are you ready for those early CSA mornings? Try saying "Morgenstund hat Gold im Mund!" This phrase literally means "morning hours have gold in mouth." This is basically the German equivalent of "the early bird gets the worm"—if you wake up, get out of bed and start work early, you'll be a lot more productive.
eady to keep in touch with some new friends? Ask them the Berliner way — "Kann ich deine Nummer haben?" This translates to the ever useful, "can I have your number?".
Lost for words? Try saying "Wer weiß, warum die Gänse barfuß gehen," which means: "who knows why geese walk barefoot," as an artful way to say, "that's just how it is".
The bittersweet goodbye at the end of the week calls for, "Alles hat ein Ende, nur die Wurst hat zwei" which means "Everything has an end, only the sausage has two".
Dussmann das KulturKaufhaus
Would you like to do some shopping? We suggest Dussmann das KulturKaufhaus: Find books, movies, and music all at the culture department store! Open late every day except Sunday!
Berliner Volksfestsommer (German-French Fair)
The largest folk festival in Berlin at the Zentraler Festplatz, with funfair rides, live music and many delicacies. There is a lot of entertainment with around 150 performers, rides and rollercoasters. A highlight is the impressive fireworks every Saturday.
Berlin during the Interwar Period
Weimar Culture
During the interwar period, a great deal of intellectuals, artists, and innovators from a variety of fields developed their craft. The social and political culture that was fostered by unrest contributed to their content production. German visual art, music, and literature were all influenced by German Expressionism at the start of the Weimar Republic. It later took a turn towards New Objectivity, which was not a clear cut movement, but was rather defined by the rejection of Expressionism and instead focused on producing precise and factual depictions. In this way, it was highly political.
Art
The art of the Weimar Republic was influenced by several movements including: Expressionism, Dadaism, Cubism, and New Objectivity. New Objectivity was by far the most influential of the movements during the interwar period in Berlin. There was also a smaller movement referred to as Verism, which entailed the Roman classical Verism approach that looked at the truth, including the ugly parts. The November Group was a group of artists from many genres who identified as 'avant-garde'. They would hold 19 exhibitions in Berlin until they were banned by the Nazi regime in 1933.
Check out the Berlinische Galerie to see their outstanding collections that include Dada Berlin, New Objectivity, and other avant garde pieces. Their current exhibition 'Art in Berlin 1880-1980" ranges from paintings during the period of the Kaiser to the interwar and post-war periods. In particular, the collection displays pieces of art produced after World War I as a reorientation of the avant-garde, the constructivism as well as the portraits and still lifes of the 1920s, and Berlin during National Socialism.
Some pieces to look out for
The Mother by Otto Freundlich, 1921; Jenny Seated by Rudolf Schlichter, 1922/23; The Poet Iwar von Luecken by Otto Dix, 1926; Self-Portrait, Warning by George Grosz; The Folly Square by Felix Nussbaum, 1931; Blind Power by Rudolf Schlichter, 1932/37
The Berlinische Galerie is located at Alte Jakobstraße 124–128, 10969 Berlin Germany (close to the Jewish Museum) and they are open Wednesday – Monday 10am-6pm (closed on Tuesdays); admission is €8.
Architecture
During the interwar period, architectural design witnessed a radical departure from previous styles. This new style, Bauhaus, was founded by Walter Gropius and is synonymous with modern design. Bauhaus was an institution that combined teaching of industrial design with art. By doing so, the works focused on rational and functional building and reflected the New Objectivity aesthetic of the Weimar Republic.
Although much of Berlin was destroyed during World War II, there are still remnants of the 20th century modernist architecture style that you can see for yourself today. The Bauhaus Archive, south of Tiergarten, displays Bauhaus buildings, as well as showing Bauhaus's influence on other art forms. The Bauhaus Archiv in Berlin proclaims itself to be the most comprehensive collection of Bauhaus art and design in the world. It was built in 1979 and eventually placed under historical protection in 1997 and has been renovated under unified Germany. Unfortunately, the Bauhaus Archive exhibits are closed until 2022, but the giftshop, café, and bookstore remain open should you choose to make a visit. It is within walking distance of Konrad-Adenauer-Stiftung and Friedrich-Ebert-Stiftung, where the Summer Academy will be for 4/7 days.
ADGB Trade Union School
The most substantially preserved Bauhaus building is the ADGB Trade Union School in the suburb of Bernau, that was built in 1930 by the second Bauhaus director, Hannes Meyer. This is an hour from our hotel, but a notable site.
Neue Nationalgalerie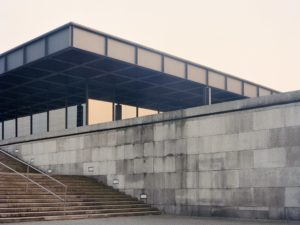 Barely a kilometer from the Bauhaus-Archiv stands another important architectural monument of the classic modern age: the Neue Nationalgalerie by Ludwig Mies van der Rohe. It is a museum for modern art in Berlin, with its main focus on the early 20th century and stands as a landmark of 20th century architecture. [The actual gallery itself is closed for refurbishment.] This site as well is very close to Konrad-Adenauer-Stiftung and Friedrich-Ebert-Stiftung, where the Summer Academy will be for 4/7 days.
Haus des Rundfunks
The Haus des Rundfunks was one of the first purpose-built broadcasting buildings in Europe. Designed by architect Hans Poelzig, it was inaugurated in 1931 after two years of construction. It is one of the best examples of modern architecture in Berlin.
Hufeisensiedlung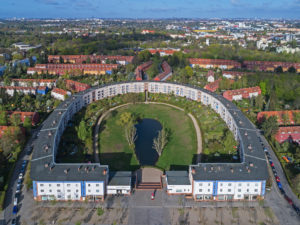 The Hufeisensiedlung ("Horseshoe Estate") was built in 1925-1933 on a former manor estate in what is now the Neukölln district of Berlin. It enjoys international renown as a milestone of modern urban housing. It was designed by architect Bruno Taut, municipal planning head and co-architect Martin Wagner, garden architect Leberecht Migge and Neukölln gardens director Ottokar Wagler. The Hufeisensiedlung is probably the most outstanding example of innovative German town planning during the 1920s.
Landhaus Lemke
In the district of Lichtenberg stands another iconic example of Bauhaus-architecture. In 1932/33, Ludwig Mies van der Rohe built "Landhaus Lemke" for printing company owner, Karl Lemke. It was the last house designed by Ludwig Mies van der Rohe in Germany before his emigration to the United States in 1938.
Mehringplatz
Additionally, if you exit the U-Bahn at Hallesches Tor, you will notice Mehringplatz which showcases examples of advanced urban planning. This ring of social housing was rebuilt following the destruction of World War II based on designs by architect Hans Scharoun.
Schell-House
The Shell-Haus is a classical modernist architectural masterpiece that stands overlooking the Landwehrkanal in the Tiergarten district of Berlin, Germany. It was designed by Emil Fahrenkamp and was built in 1930–31. This site as well is very close to Konrad-Adenauer-Stiftung and Friedrich-Ebert-Stiftung, where the Summer Academy will be for 4/7 days.
Volksbühne Theatre
The Volksbühne Theatre was built during the years 1913 to 1914 and was designed by Oskar Kaufmann, a Hungarian Jew, with integrated sculpture by Franz Metzner. The original slogan inscribed on the edifice was "Die Kunst dem Volke" ("Art to the people"). During World War II, the theatre was heavily damaged like much of the rest of Berlin. From 1950 to 1954, it was rebuilt according to the design of architect Hans Richter. This site is 5 minutes away from our hotel via subway.
The Jewish Girls' School
The Jewish Girls' School was designed by German architect Alexander Beer and completed by 1928. The Girls' School was occupied by Nazis as early as 1930 and the courtyard was even used to organize and carry out deportations in 1941. In 1942, the school was closed and taken over by a hospital until the end of the war. In 2006, it came to life again with the 4th Berlin Biennale held there. In 2011, gallery owner Michael Fuchs rented the school on a 30 year lease and has since established the 'House of Art and Dining Culture'.
Liebermann Villa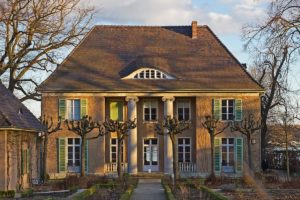 The Liebermann Villa was the summer residence of the German painter and former head of the Prussian Art Academy, Max Liebermann. It is located directly at the shores of Lake Wannsee in Berlin. The villa now houses a permanent exhibit of Liebermann's collected works and displays about his life. Additionally, check out the stolperstein outside of their city residence near the Brandenburg Gate that details how his wife chose to end her own life rather than be deported.
Garagenpalast
There are also many, less spectacular Bauhaus-era buildings that influence the architectural face of the city to the present day. For example, the "Garagenpalast" at Kantstraße 126/27 in Charlottenburg is from 1930 has space for 300 vehicles. Although its future is unclear, at present it remains an example of functional Bauhaus design.
Kathreiner-Haus
The Kathreiner-Haus was designed in March 1930 by Bruno Paul in the style of New Objectivity, and named after the malt coffee company Kathreiner. It consists of three wings: the two wings lying parallel to Potsdamer Straße are six-storeyed and are oriented towards the eaves of the surrounding buildings.
+43 1 4090 971
office@centropa.org